Sharpshooter News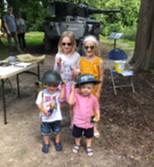 Home Front Weekend at Hever - 22 June 2019
---
Thank you to all our volunteers who turned up yesterday for maintenance activity at the museum, and then to welcome members of the public to the musem today, as part of Hever Castle's annual Home Front weekend.. We were blessed with great weather.
The children in the photo are posing infront of the Saladin armoured car, with helmets from our handling collection.
Meanwhile the boy in the second photo is not too fazed by the scratchy world war one jacket and toy gas mask!
We were absolutely delighted when 3rd County of London Yeomanry veteran William Johnson paid us a surprise visit in the afternoon. William fought with the regiment in Normandy in 1944.
Finally, Chris, Emily and Mads were interviewed by Radio Redhill, you can listen to the recording between 2 and 5pm on Sunday 30 June. Looking forward to meeting lots more people at the museum tomorrow!
---